Cindy- Lou Ramsay, a creative, award-winning Photographer, experienced broadcast television Camera Operator and Camera Trainer, with a good eye for detail, a passion for pictures and an ability to capture ordinary things in an extraordinary way. Welcome to her site!
About Cindy:
 (Short version...)
"I am a Photographer, occasional Film Maker, Wildlife fanatic, (particularly birds) plant-lover and Globe-trotter! I live in East Kilbride, a town a few miles south of Glasgow in South Lanarkshire, Scotland.
I like to photograph details, the spaces around me, birds, plants, people, dogs, all things furry/feathered/scaled..... I like to document the places I've been to, as well as the places nearer home, and compile the pictures into calendars of Glasgow and East Kilbride so others can see the best bits! I like to try and make the ordinary look extraordinary (if I can)!
I still believe photos should be put up on a wall and made into a book instead of being left to rot on a memory card. They are memories waiting to be remembered and wee glimpses of the past, they are more precious than digital files hidden away.... "
 (Long Version...)
I've been playing with cameras for as long as I can remember, however, things didn't start becoming more 'official' until I went to college to study Photography & Audio Visual at Glasgow College of Building and Printing. In my last year at school, I still had no clue what I wanted to do but after years of studying more academic subjects, I did a crash Higher Art and during that time, I was given permission to turn one of the cupboards into a make-shift darkroom, That was the first time I actively considered going down the Photography route as a career. I pretty much had to figure things out for myself, so I wasn't exactly producing spectacular artwork, but it was enough to inspire me into pursuing it more actively.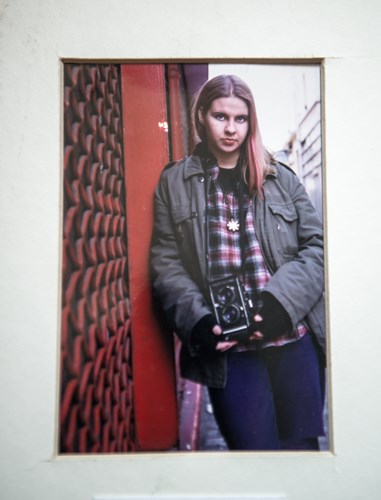 I enjoyed college, it gave me a chance to explore my creative side at last and figure out who/what I wanted to be. It was back in the 'good old days' before digital took over the planet, so I spent a lot of time in darkrooms, listening to The Wonderstuff, (it was the early 90s) wearing various tent-sized band t-shirts (they didn't do "girl tees" in those days) which inevitably ended up with chemical stains down the front from processing film spools! 
My first SLR was a Praktica, which was then soon exchanged for my first Nikon, an FE, £250 from Jessops on Union Street, (I still have it) the 'Nikon love affair' was born! (below pic, Praktica similar to my first SLR)
After college I got a job at Covershots International, a portrait studio in Glasgow. Not exactly my ideal job but it gave me invaluable practice building up my skills, confidence and technique, plus it paved the way for my next role...
TV calling... :) 
It was a slightly chaotic start! I applied for a job at STV as Camera Trainee the day before the deadline date, having been told about it by a friend's sister at the last minute. I'd never really thought about working in TV till then but that's where I ended up! From Camera Trainee, to Camera Operator, Staff Camera Operator, and finally Senior Camera Operator (this time at BBC) I spent a total of 22 years working in the Television industry covering everything and anything. From Top of the Pops, to River City, Chewin the Fat and T In the Park, it was a career full of highs, lows, crazy hours, hard-to-handle egos and some fantastic sights and experiences. It's hard to compare it to any other job because I don't think there are many jobs like it. Despite all of this, photography remained my first love and in early 2018, I retired from my position of Senior Camera Operator and returned to my roots... literally! 
Along with Photography, my other big love is plants, and in the Autumn of 2018, I went back to college, this time to study Horticulture, to learn about plants properly. My dad was  keen gardener, and his love for plants rubbed off on me! Plants are amazing, without them we wouldn't exist, leaving my TV job freed up the time to allow me to study the science of Horticulture, giving me an even greater appreciation! My aim is to merge 'pictures with plants', and maybe even inspire some folk along the way ... :)